What is acrylic paint? There are a few different categories of acrylic paint. The most commonly known are Heavy Body paint and the three main brands are Sommelier, LiquiTex Acrylic paint and Windsor & Newton. These generally come in acrylic tubes and are designed to be an imitation of oil paint. You can do a lot more with acrylic paint compared to oil paint, thanks to their different fluidity or viscosity.
You can also find Soft Body, also called Fluid Paint and Ink in acrylics.
We will also present you some student grade and talk about when you might want to choose a student grade over a professional grade.
Thanks to Michele Theberge for her help in bringing you this tutorial. If you're not familiar with her work, check out her stuff here.

---
How to Use Acrylic Paint
There are many different ways to use acrylic paint depending on which paints you have. Here, we've outline the four major kinds of acrylic paints and how to use each.
---
Acrylic Inks
One of the benefits of acrylic ink is that you can use it with a dip pen and draw with it. You can draw with it on paper or on canvas just like you would with any other kind of pen or any technique like cross hatching.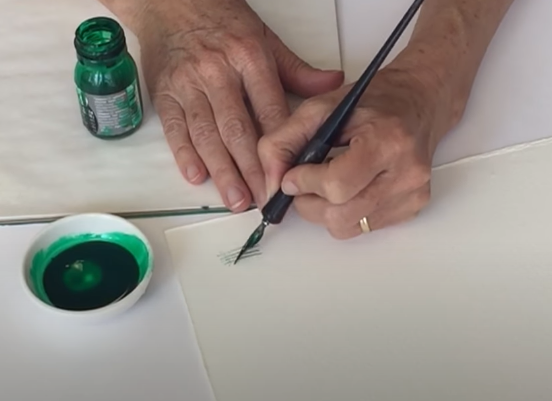 The other advantage is it can be used like a watercolor paint on watercolor paper to get washes and a fluid consistency. It doesn't lift, so once it dries it stays and it's permanent.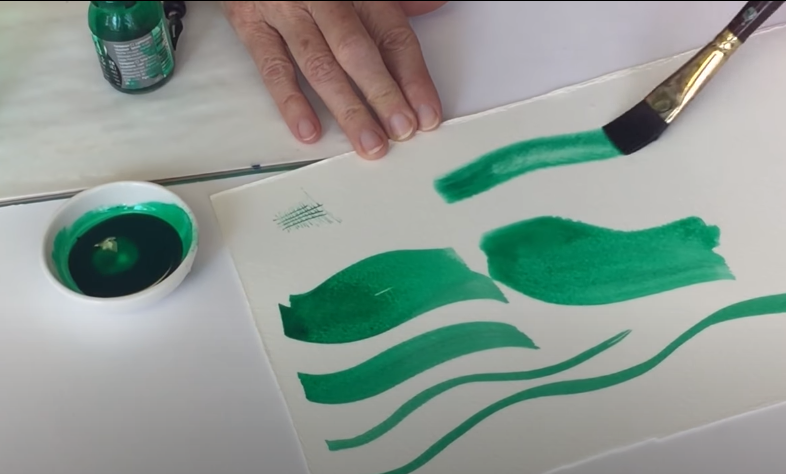 Acrylic ink is also good for mixing in with mediums when you want a really fluid consistency like a glazing medium or a pouring medium.
I like it because it's really fluid, most of the colors are pretty transparent and have a watercolor like consistency.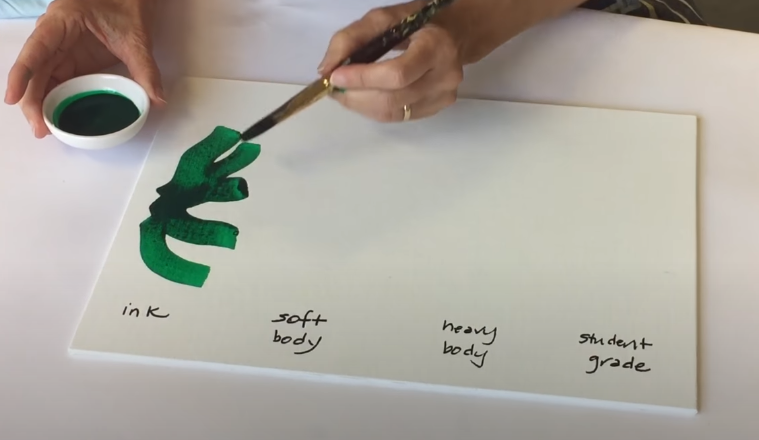 The acrylic ink is different from most drawing inks in that it's pigment base. Compared to other inks that are mostly dye based, the pigment particles in it make it less likely to fade.
Remember that you're not supposed to add more than 50% water to your acrylics, keep that in mind and check our article on the subject :
If you want a really thin wash consistency it's better to start with the correct paint.
You can also use acrylic inks to tint photograph, rubber stamping or paint on fabric. It's very good for fabric painting as it's permanent and once it dries it doesn't lift off.
One little tip to know is that the color pigments settle to the bottom of your bottles so need to gently shake them to get started. Don't shake them vigorously because it can create bubbles and then you might have those bubbles in your paint.
---
Soft Body or Fluid Acrylic Paint
To show you well the difference, I use the exact same color in soft body consistency.
The consistency of soft body paint is definitely thicker, kind of creamy.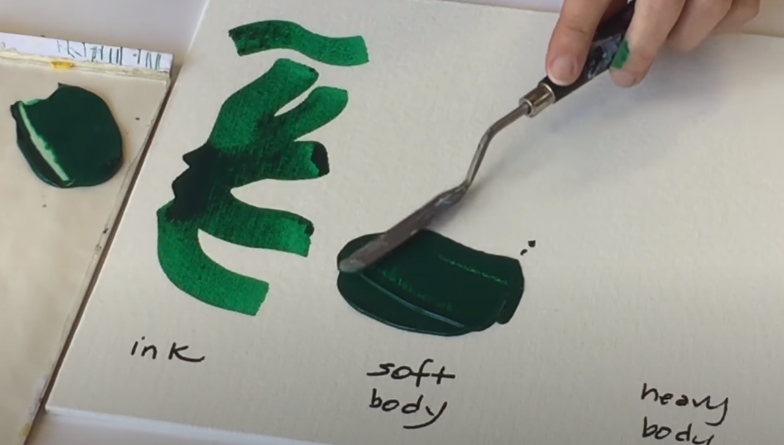 Soft Body paint is really useful when you want to paint large flat areas without a lot of brushstroke.
If you want to do a color chart or any kind of craft projects where you need to cover an area this is the best option because you can get a smooth even level application more easily with this paint.
As I am using a transparent color, you can see below that it's not completely opaque but with opaque colors you would have a full coverage.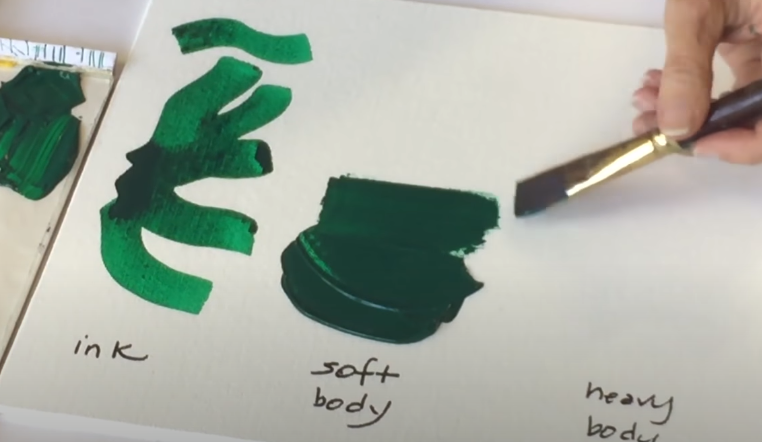 You can also get a better brushstroke texture by using a bristle brush but you will get less texture than using a heavy body paint.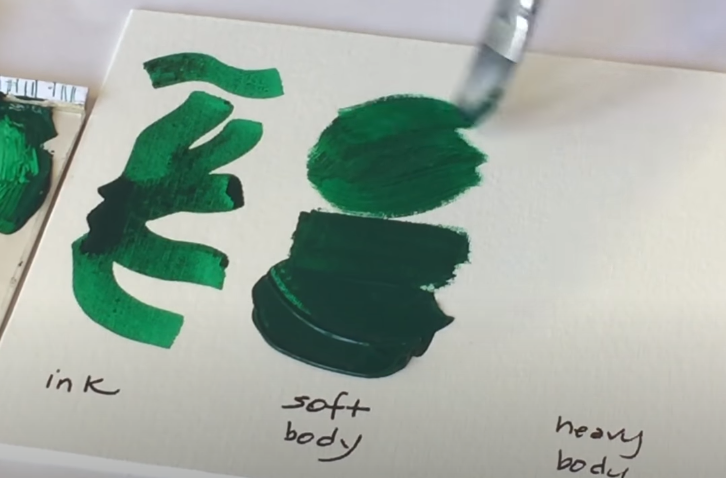 ---
Heavy Body Acrylic Paint
Now we're going to try the heavy body acrylic paint and you'll be able to see the difference between the heavy body and the soft body.
It's a thicker consistency so it'll retain peaks and volume more easily. If you try and brush it out you'll notice we get more color coverage but also more texture.
For impressionists or any painter with a lot of brush strokes, this would be the best paint for you! Golden acrylic paint & Arteza acrylic paint are a few good brands to look into!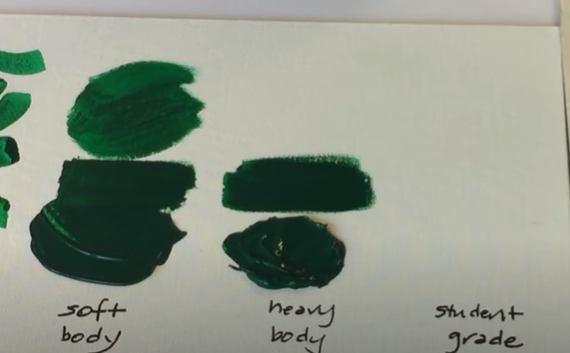 Pro Tip: Using a tough bristle brush is the best way to get texture.
---
Student Grade Acrylic Paint
Student grade colors have less pigmentation than professional grade colors.Think of it as a budget painter's best acrylic paint. When the vibrancy isn't the most important aspect of your work, this should do.
Here you can see what we mean when we brush it out and the true colors are revealed.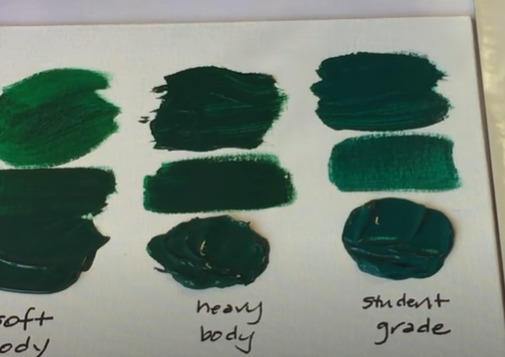 We don't believe it's necessary to ALWAYS use professional grade. There will be some instances where the budget paint is fine. Especially when you're just starting out and you are doing a lot of painting as practice. Then, of course, opt for the student grade!
Pro Tip: Apple Barrel Acrylic Paint is one of our favorite go-to's for the value. Micheals acrylic paint is another.
Our philosophy for beginners is always quantity over quality. Whatever gives you the best avenue to get the most amount of practice, do so! Though, if your resources will allow it, go for a professional grade.
---
Let's Review
Here are the four viscosities of Acrylic paint: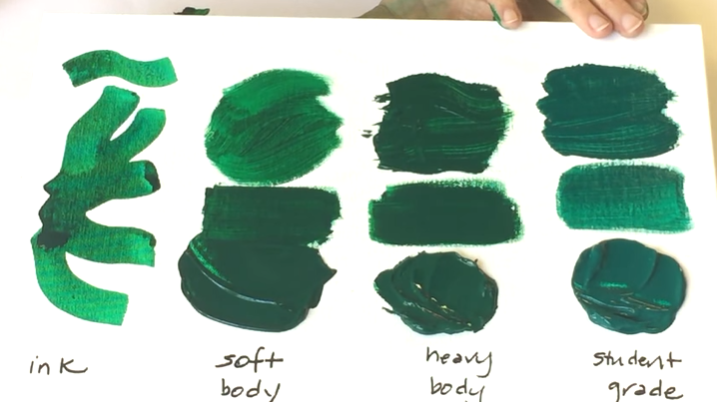 Use ink when you're going for a watercolor-look or when you want to adhere the paint over any other body of paint. For example, when you want to paint delicately over heavy/soft body paint. It gives you possibilities that none of the others can.
If you are after a more flat paint or fluid consistency without a lot of brush stroke, go for soft body acrylic paint.
Heavy body is used for a more traditional oil painting look. You'll end up with more brush stroke even when spreading it then.
Student grade is for those on a budget. There's nothing wrong with practice! Plus, its longevity is fine!
Hopefully this guide has helped you understand more of the basics of acrylic paint so that you can better choose what works for your style!