So, you've just begun your crafting journey and are looking for a great beginners Acrylic Paint Set. Well, good news, we've done the hard work for you. Now, all you need to do is find the right set for your needs based on our reviews below.
To help you find the best acrylic paint set, we have tested many high quality products. We test them for ease of use and make sure they produce uniform colors and shades, giving preference to products made from non-toxic formulas. We also liked the kits which contained different colors and came in durable storage containers.
---
3 Best Acrylic Paint Sets
Here are a couple of the biggest acrylic brands in the industry and how their paint sets compare to each other.
The best product we tested was the Arteza Acrylic Metallic Paint Kit, which offers 36 color variations, each containing fading resistant components that are ideal for painting on canvas. The paint is non-toxic, ACMI certified and comes in a convenient packaging, which makes each color available and tidy. Read on to learn more about the Arteza acrylic metallic paint set and other elements from this list.

---
Arteza Acrylic Metallic Paint Kit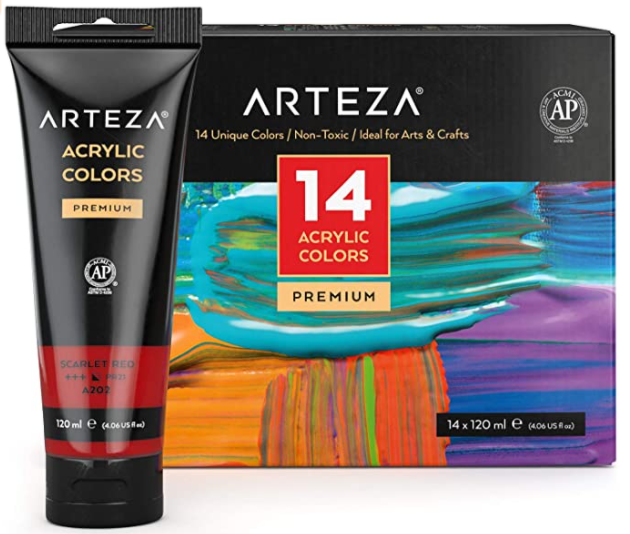 These acrylic metal ink bags are a fantastic choice and offer 36 unique and beautiful color options, each with consistent results on canvas and other surfaces. The formula is non-toxic, ACMI certified and comes in a large container for easy access and storage. We also appreciate the waterproof caps, which keep each tube fresh for a long time.
Although the 36 color options offered are definitely enough, there are some options with lots of colors in this list. In addition, these colors are ideal for different surfaces, but not very good for glass, although a resin layer can be added later. Always buy the best aerosol paints for your projects.
---
Golden Acrylic Paint Set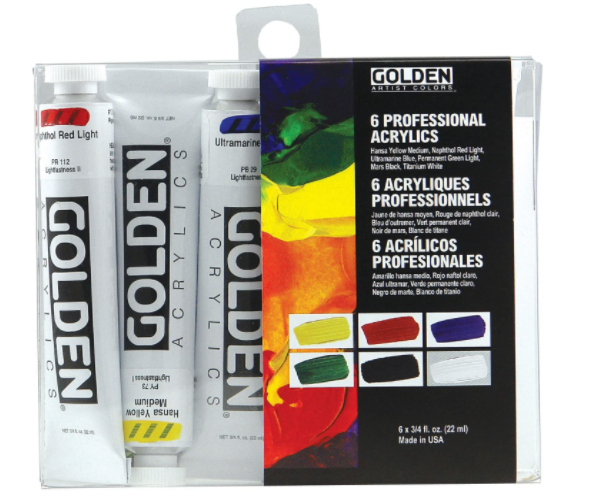 This Golden Heavy Body Introductory Set is a good starting place for those just beginning. The 6-set gives a great understanding of the paint's properties which are purely pigmented and of professional grade.
The quality can best be described as a buttery consistency with a more-than permanent life. It has a deservedly 5-star review on Amazon
Our only complaint is the fact that the palette that comes with this 6-color set is a bit dull. The colors themselves are very vibrant and is a great choice.
---
Liquitex Acrylic Paint Set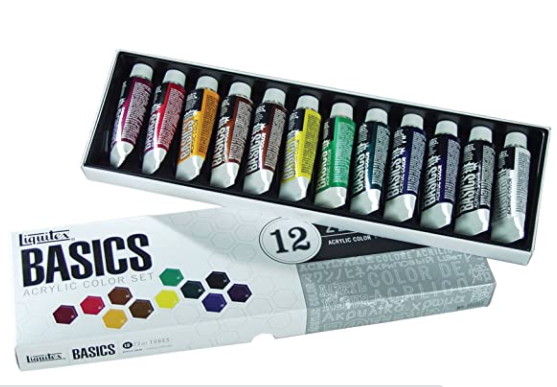 For those looking for a little more color option, you may want to check out the Liquitex BASICS Acrylic Paint Tube 12-piece set. Like the Golden brand, Liquitex is verifiably one of the top names in the industry and have provided yet another great product in this beginner set.
It has a 4.5 star review on Amazon that seems less to do with the quality of paint and more-so involving other things. However, the paint is thick and creamy with a satin finish that always looks good.
It's ideal for learning the basics of color mixing. Our only complaint is the lack of a true red color. However, we are sure this would be fixed by selecting one of their bigger palettes (with options up to 36 colors). Overall, it's also a solid choice. Liquitex is a brand always found in Michaels acrylic paint sets around the country.
---
Cheap Acrylic Paint Sets
While both acrylic paint sets we have mentioned above are affordable, we will review another one for the sake of it.
This time, we will present a wider range of colors too. The ARTEZA Acrylic Paint Set of 60 colors is one of the most popular for artists who have first invested in a smaller set and are ready to take their arsenal to the next level.
Coming in at only a dollar per color, it is hard to imagine a better set for the price — and their 5-star review on Amazon tends to agree with us.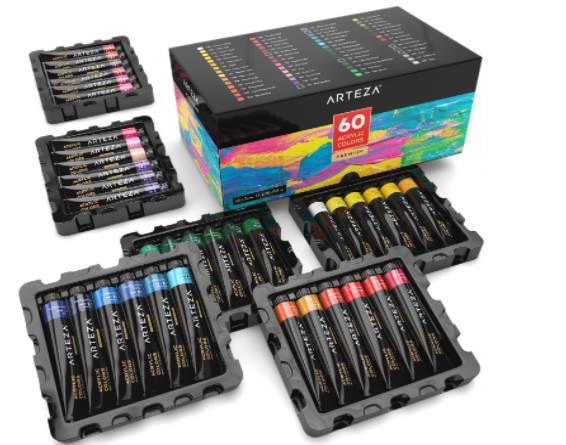 Actually, this set is good for painters of all experience levels (not just beginners). Plus, it comes with a 100% money back guarantee which is always nice when trying a new brand of acrylic paint.
It gives off rich, vivid pigments which are ideal for canvas and won't fade over a long time. Our only complaint isn't to do with the paint but the packaging. On one of the colors, paint began to come from the tube and we can't seem to figure out what caused it. If this happens often, it will be troublesome.
UPDATE: It has been six months and the problem has never recurred.
---
Best Acrylic Paint Brush Sets
We hope you have found this information review on our favorite acrylic paint set helpful. If so, let us know in the comments below. Additionally, feel free to add your review of other brands in the comments below so our readers have a wider choice of selection.
Happy painting!