Acrylic ink painting is a relatively new art form, though, derived from old-fashioned acrylic painting. Liquitex acrylic ink is by and large the industry standard in this form.
Today, we will review Liquitex acrylic ink as well as a few others.

---
What is Acrylic Ink?
It's a fluid pigment of acrylic and that's an important thing to denote because most ink is dye-based and the dye will fade — think of your jeans or t-shirts which fade — and that's not something you want with your artwork.
Acrylic ink, although we call it an ink, is actually a pigmented acrylic, and you can use it in all the ways you'd normally use ink even though it's actually a fluid pigmented acrylic.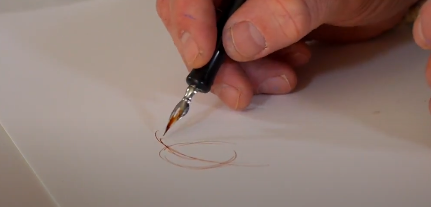 As you can see, it's fluid base gives us an opportunity to use tools that otherwise wouldn't be available in acrylic painting. This gives us the ability to work more texture, finer details, and cleaner, clearer lines and edges into our work.
Not to mention, it allows you to do all of the normal things you would normally do with acrylic paint: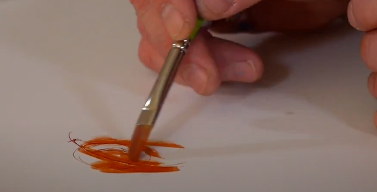 ---
Liquitex Acrylic Ink or Daler Rowney Acrylic Ink?
Liquitex Acrylic Ink
Liquitex ink was introduced in 2009 and comes in 30 colors. It is fine art ink. Which means it is made with fine art materials. You can reasonably expect the best from Liquitex because of their innovative basket bead-mill technology, where small reinforced ceramic beads give fine dispersion, great color development, strength, and brightness. Just true color purity!
Not to mention, all of Liquitex's products are inter-mixable. This means you're able to mix, for example, pouring mediums with the ink. The acrylic ink is so fluid it has no problem mixing and creating new potential for your artwork.
You can use acrylic ink as a compliment to your acrylic pouring: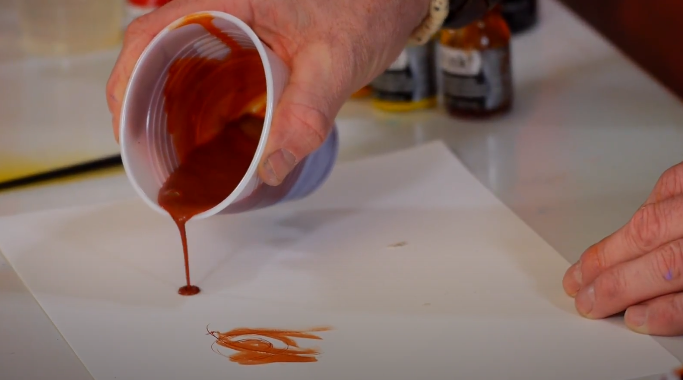 This allows you to push your work into all sorts of new directions and gives your the convenience to easily mix your paints.
Liquitex Acrylic Inks are incredible to work with. They have liquid flow, pigmentation is true, and metallics are vibrant on any kind of surface (paper, wood, metal, fabric). As a mixed media artist, these are a vital part of your supply list.
This is also a must-have for any hobbyist, artist, professional, someone who thinks they might like to start drawing, or for someone who's been drawing for years.
Painter's Rating: 8.9
---
Daler Rowney Acrylic Ink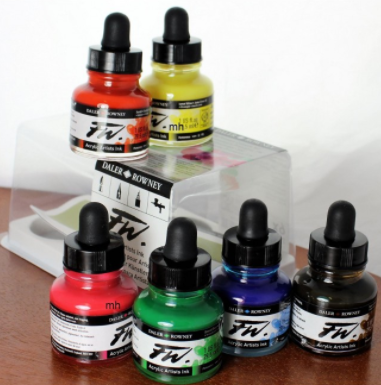 Daler Rowney has been manufacturing fine art materials for over 225 years and acrylic inks are no exception to that fine tradition. Daler Rowney uses a variety of pigments and acrylic inks. They are pigmented, water-resistant inks in 1-ounce bottles with a squeeze tip for easy dispensing.
They can be diluted with water to create the appearance of watercolor but with a much brighter vibrance. They can also be mixed with acrylic mediums and used as paint.
The ink will dry to a film-type consistency and excessive layers can always be added. Plus, they clean up so conveniently.
All their colors have a 3 or 4-star rating for lightfastness and are ideal for creating paintings for a long-lasting display.
You can use it with spray, sponge, brush, pour, or a number of other tools and techniques.
The pigments, though, are large in particle size so they're not recommended for airbrushing to avoid clogging.
Dale Rowney offers 38 colors, all inter-mixable in 1-ounce bottles. They're a staple to acrylic painting and should not be overlooked.
Painter's Rating: 8.6
Acrylic Ink Fun!
There are a few of our favorite brands when it comes to Acrylic Paint Ink. If you have questions about any particular inks, let us know in the comments below. We have a lot of experience with many different staples in acrylics and would be happy to assist your questions.
Happy painting 🙂