So, you want to use acrylic paint on plastic? That's great, acrylic painting on plastic is really fun.
Thanks to our friend, Sush, for helping us bring you this quick tutorial. If you want more from her, be sure to check out her channel. It is sure helpful to us 🙂
In this step-by-step beginner's tutorial, we will review how to paint on plastic so you know how to paint a phone case and other fun projects like that.
Are you ready? Let's get started!

---
Will Acrylic Paint Stick to Plastic?
The short answer is yes. Acrylic paints on plastic does stick. However, if you plan to use cheap acrylic paint from the retailer down the street — or even some more expensive paints — you must prepare the plastic accordingly or use a special primer on the plastic. Don't worry, it's easy. We will touch on that a bit in this tutorial.
---
Painting Plastic with Acrylic Paints
Let's jump into our regular programming. Here's how to do acrylic paint on plastic:
---
Step 1: Gather materials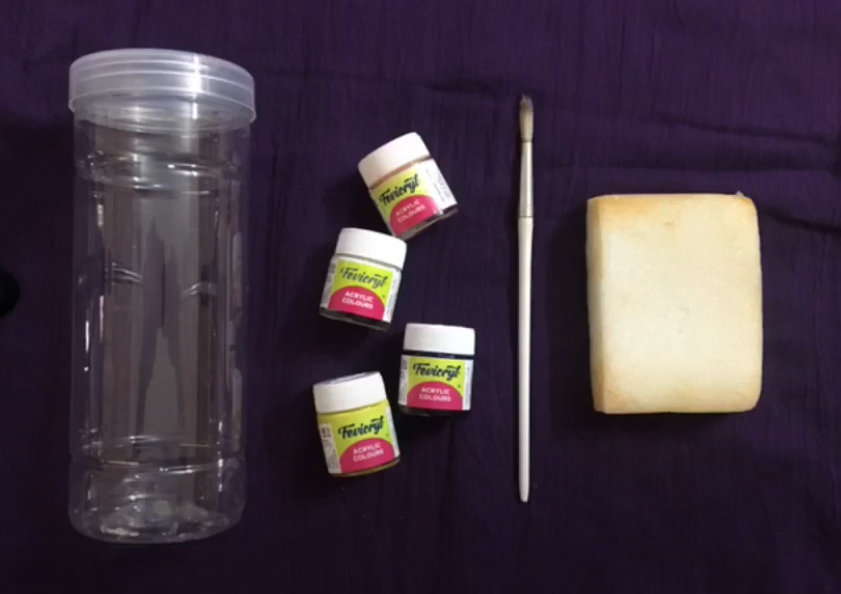 Plastic container
Acrylic paints
Brush
Sponge
Note: You can also use enamel paints instead of acrylic paints.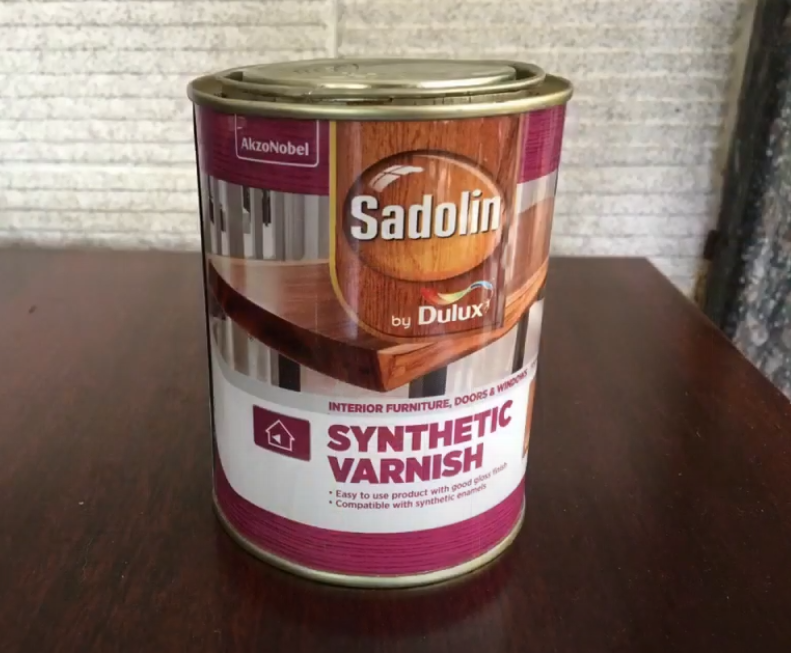 Varnish for the final coat to protect acrylic from flaking off because acrylic doesn't adhere well to plastics and glass.
---
Step 2: Dab white paint
Begin by dabbing white paint as a base using a sponge to cover the entire surface.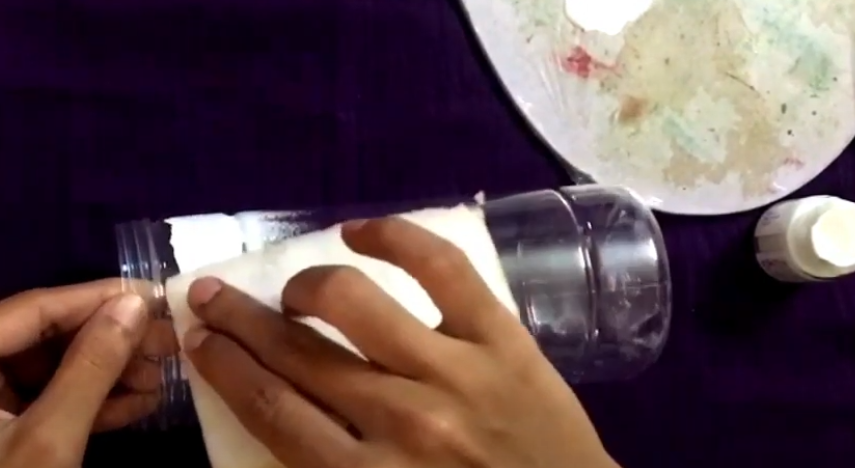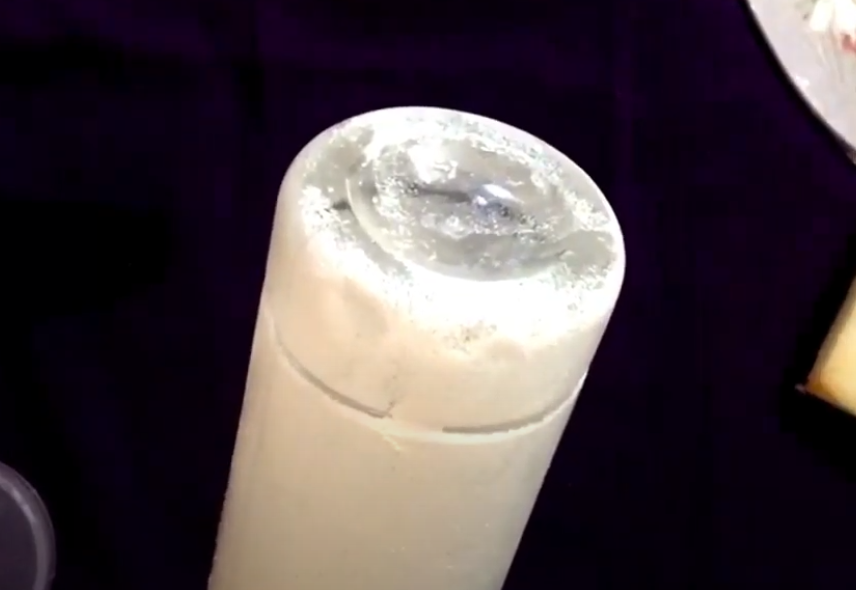 ---
Step 3: Let it dry
After the first coat, let it dry before giving it a second coat.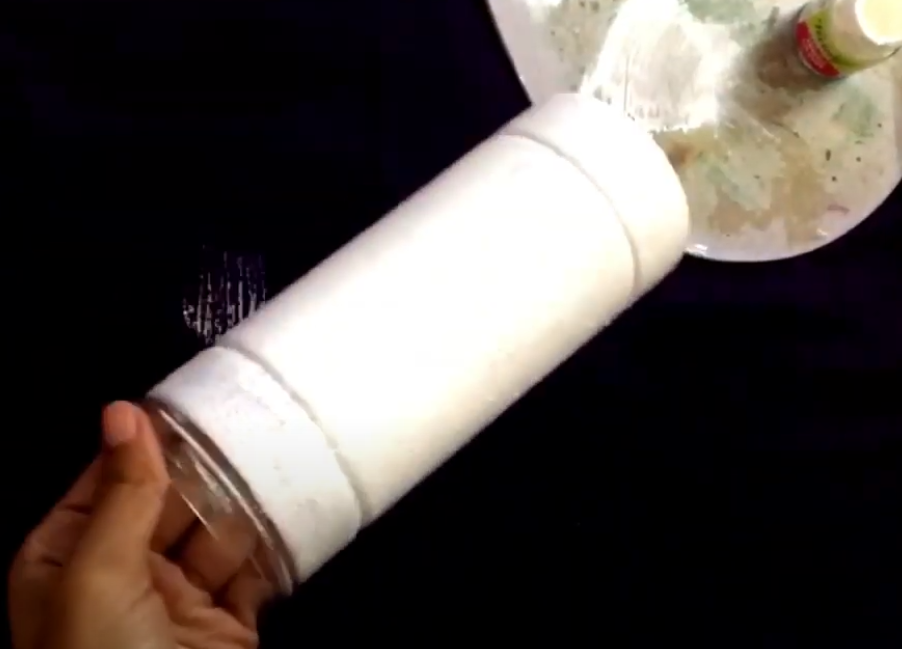 ---
Step 4: Work background to foreground
Sush is using a blue acrylic paint mixed with white to paint a sky and apply it with the sponge.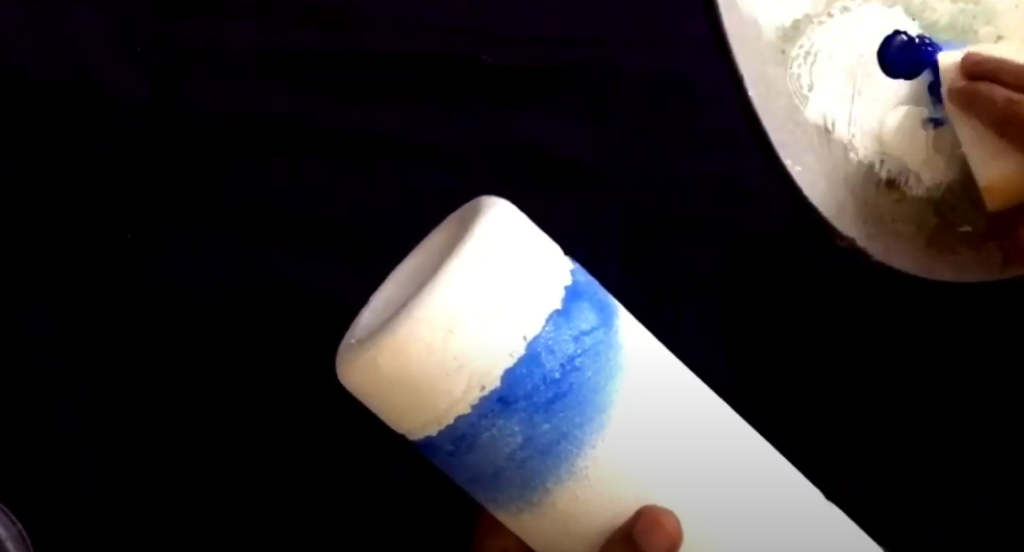 Little tip: Keep dabbing the paint over it instead of applying in stokes to get a different texture.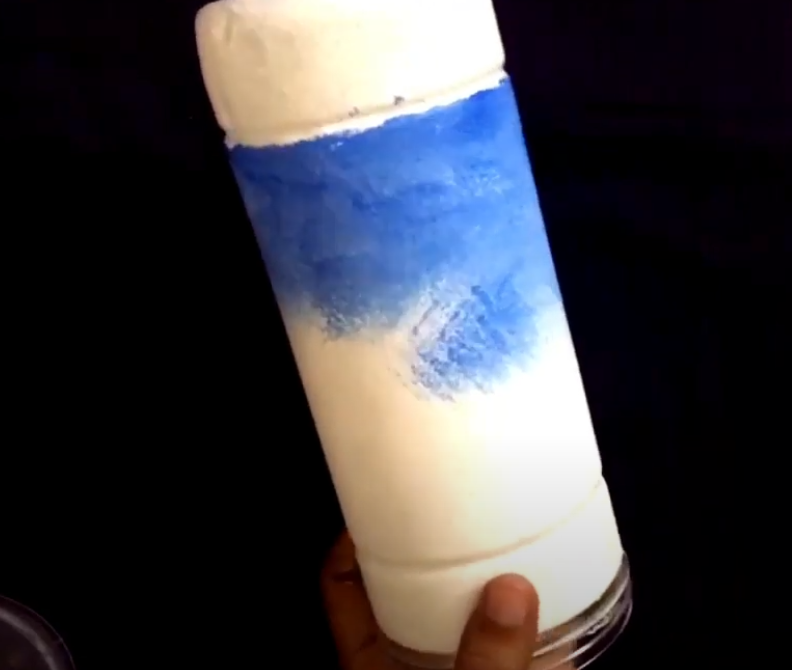 ---
Step 5: Work toward foreground
As you can see, she has added some clouds using the white and still dabbing the sponge over the blue sky.
---
Step 6: Foreground
Then Sush adds some green at the bottom for the grass. To get my green, she mixes some blue and yellow paints. Also applying it with a sponge.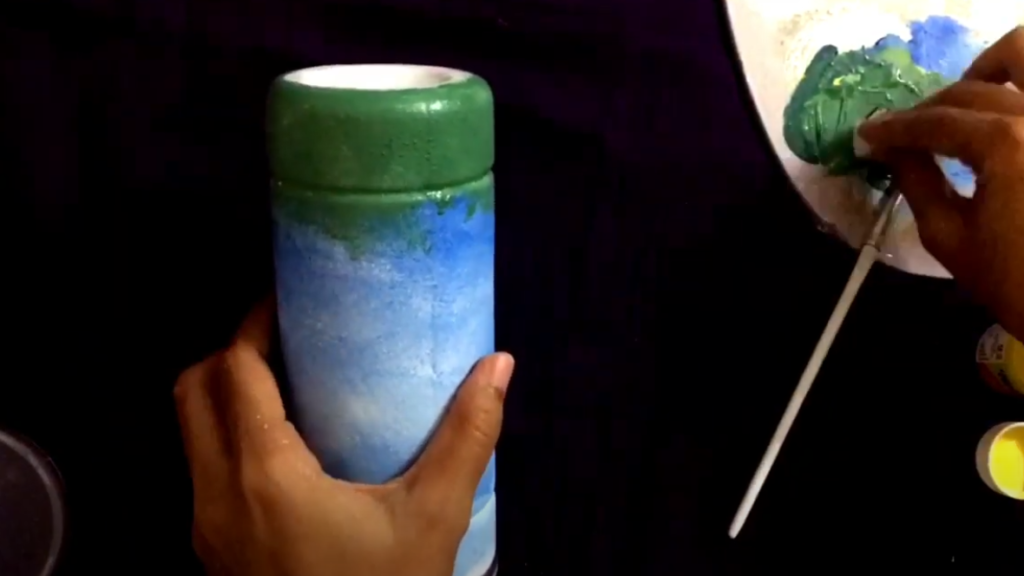 ---
Step 7: Dry and detail
She lets it all dry and then adds some details, like flowers, plants, butterflies — all using a brush. Let your creativity run!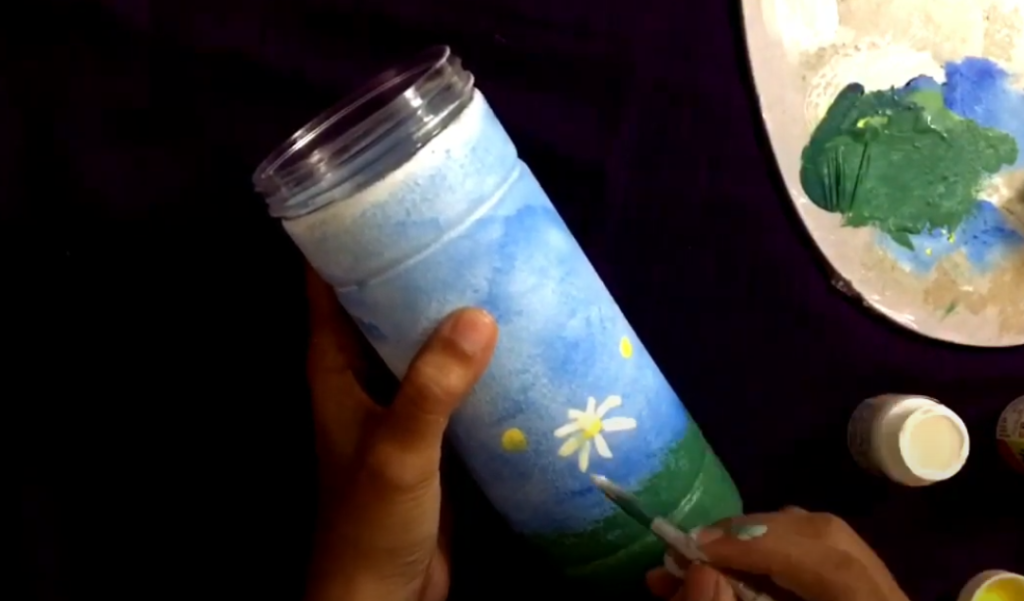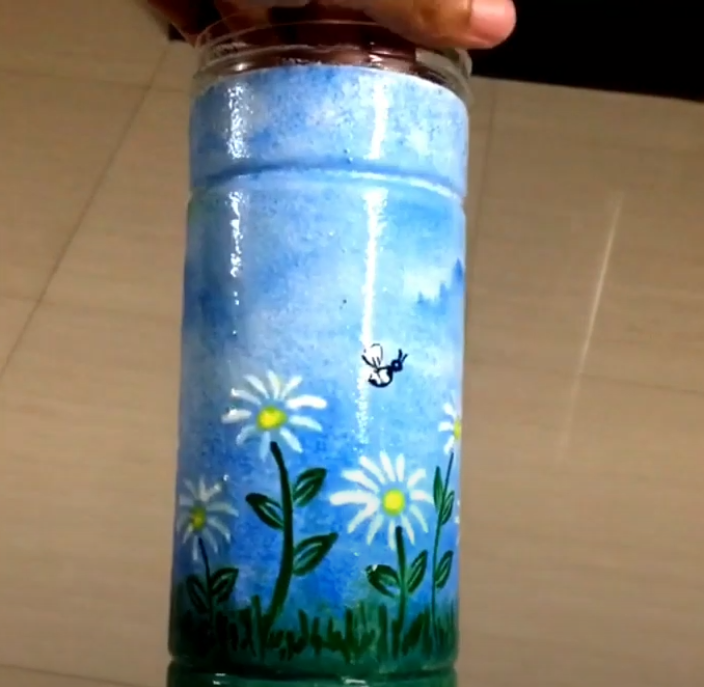 Once you finish painting, let it dry!
---
Step 8: Coat with varnish
The last step is to coat it with Varnish and leave it untouched for a day.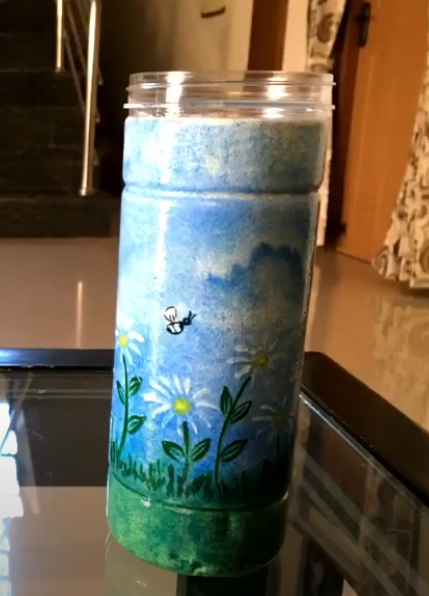 ---
How to Remove Acrylic Paint from Plastic
There are two simple ways to remove acrylic paint from plastic.
The first method involves a bag full of rubbing alcohol, a toothbrush, and some warm water and soap. Simply place the plastic piece in a baggie filled with rubbing alcohol, make sure it is enclosed, and shake it around for a minute or so. Afterward, remove the plastic and begin scrubbing excess areas with an old toothbrush. If it hasn't all been removed, rinsing it with warm water and soap should do the trick.
The second method is a bit more technical. It involves a puddy knife and a mixture of vegetable oil, nail polish remover, and denature alcohol.
Use the puddy knife to scrape what you can from the plastic first. If it's a thick coat of paint, you can probably use a razor blade. Just be certain not to put too much pressure on it or you could scratch the surface.
Use each vegetable oil, nail polish remover, and denature alcohol separately (in that order) if you can't remove all with the puddy knife.
---
Best Acrylic for Plastic Models
The best acrylic paint on plastic models are acrylic lacquer paints, especially for hand brushing which is most often the method for painting plastic models.
For recommendations, check out our store!
---
Now You Know How to Paint Plastic!
We hope you have found this acrylic paint on plastic tutorial helpful. If you have any specific questions, don't be shy to ask. We are always here to help.
We'd love to see your finished works in the comments below. Happy painting 🙂